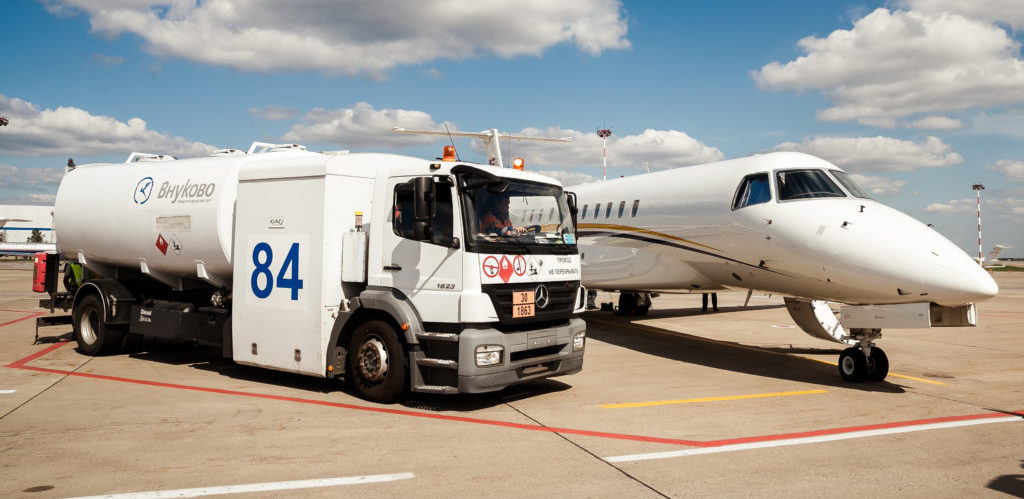 At Vnukovo-3, aviation carriers are provided with fuel and aircraft refueling services by the Aviation Refueling Complex JSC, which has a well-equipped technical base and highly qualified staff. This ensures that aviation fuels and lubricants comply with strict international standards and that fueling operators have been specially trained to ensure safe aircraft fueling in accordance with international standards.
Aircraft refueling with TS-1 kerosene (analogous to Jet-A1) is carried out using TZ-22 (22,000 l) or TZ-40 (40,000 l) mobile refueling tanks, which refuel all types of aircraft. It is also possible to refuel aircraft with passengers on board.
A high level of production processes at the enterprise is carried out in strict accordance with the requirements of national and international standards and rules in the field of environmental protection and employee health and safety. A set of measures has been taken to prevent the negative impact to the environment and ecology of nearby territories, and to reduce the negative impact to employee health even under the most harmful conditions.
Main areas of work:
Receiving, storing, preparing for refueling and the issuance of certified aviation fuel and lubricants
Aircraft refueling, aviation fuel and lubricants, and special liquids using tankers
Repair and maintenance of related equipment, facilities, and systems
Quality control of aviation fuels and lubricants at all stages of the technical chain— from receiving aviation fuels and lubricants to refueling aircraft
If you are interested in this service and need more information on the terms and conditions, please contact our Commercial department:
Tel.: +7 (495) 436-69-99
E-mail: cd@vipport.ru
To order this service, please send a request to OPS 24/7:
Tel.: +7 (495) 436-44-11
E-mail: ops@vipport.ru